Alumni Networking event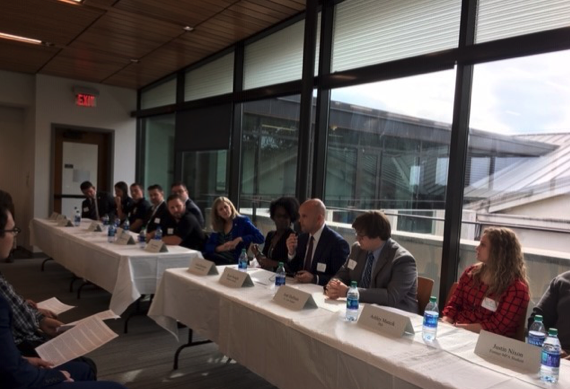 The CJ Alumni Networking Event is held every year on the day before the UGA Homecoming Game.   
Let us know if you would like to participate in this year's Alumni Panel by sending an email to Mr. Todd Krohn.
Since 1995, the Event has provided our current CJ majors an opportunity to meet with many alums in their chosen field. The event members offer advice in various areas of the CJ field including law, law enforcement, probation, parole, juvenile justice, academia, and loss prevention/asset protection.   Over 150 alumni have generously donated their time to participate in this valuable learning opportunity for our students.
The annual Alumni Event provides a unique instructional opportunity for both current students and UGA graduates. Current students clearly benefit from hearing from former students who have built successful careers in public service and security and who have invaluable advice to share. Among the many "pointers" offered by alumni in past events is the need to be fluent in a foreign language, the importance of writing and other communication skills, the value of internships, the importance of out-of-classroom conduct, the growing emphasis on graduate education and degrees, and the need to continue both training and education. In this regard, the alumni provide important feedback on SPIA and Arts and Sciences undergraduate programs and provide ways for faculty and staff to strengthen our instructional efforts.
The legal profession has been represented by private attorneys as well as those who work as public defenders and prosecutors. Other alumni have come from victim-witness programs, specialty courts, juvenile justice, child protective services, probation, and parole.  Representatives from the GBI regularly attend. Federal carreer opportunities have been represented by agents from the FBI, DEA, ATF, HSI, U.S. Marshals, and US Probation.  Local law enforcement has been represented by officers from Athens-Clarke County Police, Gwinnett County Police Department, Cobb County Police Department, the UGA Police Department, and the Atlanta Police Department.